I aspire to lead with my father's spirit of resolve and his love for people. He believed it was unfair to ask someone to do what you wouldn't be willing to do yourself. He always had his skin in the game and people loved him for it.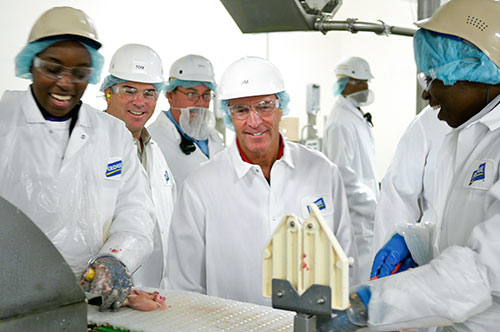 A
Fully Integrated Team Leader
is available, visible, and involved. The biggest job you'll have as a FIT leader is to engage others. Most leaders hate to admit just how much of a struggle this can be. I wrote
Getting FIT
for those experiencing this frustration.
Today we'll highlight three characteristics of a Frontline Leader:
Humility
Relatability
Availability
My direct responsibility for over 100,000 people at 80 manufacturing plants began while working in the cookie and cracker industry as a young man. My dad connected me with the Ellis family who owned the Indiana franchise for Archway Cookies. They were building a business in South Beloit, Illinois to produce cookies and confections for their fundraising business.
When I met with Rob Ellis, one of the owners, I expected him to offer me a front office job where I could suit up in tie and shirt to "learn the business." I was wrong. Rob had consulted my father and together they directed me to the shop floor for the first part of my new career in this unfamiliar industry.
I wasn't provided the opportunity to work as a manager or supervisor until I learned from the shop floor associates how to operate every piece of equipment in the plant. I needed to earn their respect. To be relatable, I tried to memorize all the plant workers' first names and learn about their families.
At first, this was awkward and difficult but it was absolutely necessary to gain their respect and trust. People see beyond the suit and fake persona so many leaders wear. It's what you say when you're sleeve-to-sleeve with a fellow employee that matters most. The need for humility in leadership is paramount.
Availability isn't the same as office hours either. It means getting out from behind the desk once in awhile. Go see who's hanging out at the soda machine, take a walk on the production floor or chat with the interns. UnFIT leaders don't know who is working for them and it's to their disadvantage. The first step to getting people on board is knowing who they are.
Part of being an influential FIT leader is being transparent. You don't have to have all the right answers or be a perfect person to lead well. Just showing up on the frontline to offer support speaks volumes more than a company-wide speech or email update. People will trust a face they can recognize.
Our Getting FIT team loves to equip others to lead well. To learn more about the FIT movement and to become one of 100,000 people already experiencing the power of FIT,
subscribe
to receive our free newsletter. We offer simple leadership strategies, free tools from the book, and great advice I wish I'd known earlier in my career as a leader. It's never too late to make a change!